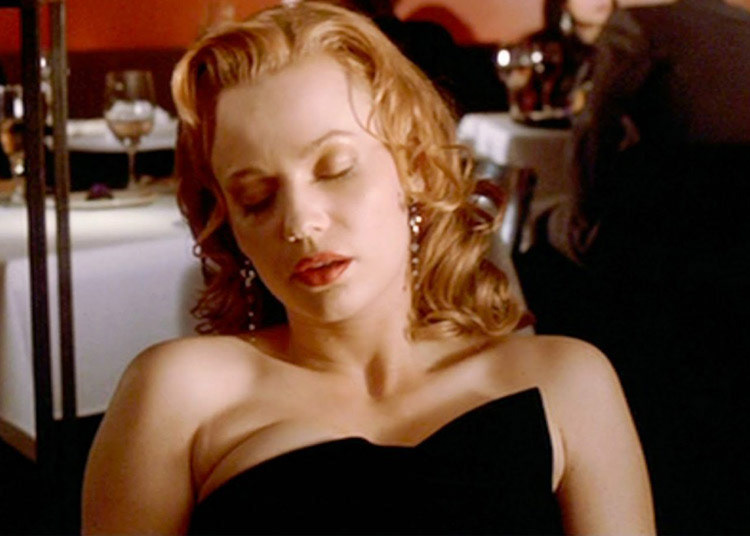 'This is Dorsia?" drawls Courtney Rawlinson confusedly, Xanax-ed out of her mind, in a famous scene from American Psycho. She's with the protagonist, Patrick Bateman, in a restaurant that definitely isn't Dorsia, the film's unattainable culinary holy grail.
Dorsia doesn't actually exist in New York, but Sydney has it's own real life equivalent, Quay Restaurant, who's head chef, Peter Gilmore is one of the very few people on the planet who truly blurs the line between excellent craftsmanship in food and actual artistry.
Quay is one of only four restaurants in Sydney to hold the coveted three hat award from the Sydney Morning Herald Food Guide (Australian restaurants aren't rated by Michelin but many have argued that the SMH's criteria are stricter.) It's held that honour for the last 13 years.
It's also the only Australian restaurant that makes it into the World's 50 Best Restaurants list every year.
I first experienced Peter Gilmore's Quay when I was a MacDonald's obsessed seventeen year old. I was the kind of spoilt little shit who would regularly scoff at my parent's perfectly cooked dinners and walk up to the local Pizza Hut instead. But like any great art should, my first experience at Quay literally changed my entire world-view.
I've been there five or six times since, but I hadn't been since I discovered the other best thing in the world: benzodiazepines.
Benzodiazepines are a class of drugs that include Valium, Temazepam, Ativan and the one and only, the perfect drug; Xanax.
I first discovered Xanax on the plane home from a holiday in Bali with my girlfriend.
I ate three of the little white pills and drank a pre-mixed Jim Beam and Coke and suddenly was no longer on a plane but floating happily through a pink marshmellow cloud towards Sydney.
As the drug crossed my blood-brain barrier, I heard the Captain's voice in my mind, "Ladies and Gentlemen, you are now free to move around your brain."
I woke up the next day feeling amazing with about seventy selfies of me and my girlfriend on my phone that I cannot, to this day, remember taking. In about half of them I am inexplicably weeping and smiling at the same time.
Everything you touch feels like a pillow on Xanax. Food tastes like Ambrosia from the gods.
Xanax is what you think smoking weed is going to feel like before you discover that smoking weed actually makes you just feel like everyone hates you and your skin is made of wet sandpaper.
My girlfriend and I love benzos but our love affair with them is a responsible one. Once a week at most and typically reserved for panic attacks or special occasions.
So what better occasion than Valentine's Day at Sydney's most prestigious restaurant?
We'd already tried the Xanax-and-fine-dining combo at Pendolino, an Italian restaurant in the heart of the city that is absolutely best-in-class if you're in the mood for rich, perfectly assembled Italian tradition slathered in olive oil that somehow tastes like it's the sweat of Venus herself. But this evening called for something one step beyond.
A spur of the moment decision, partly prompted by the sudden arrival of my new (and first ever) credit card (this can only end well) saw us calling Quay at 7pm on the off chance that they'd have a cancellation for an 8.30pm reservation – a long shot, as typically they're booked out four months in advance.
But this evening we were somehow astonishingly serendipitous – fate itself was insisting that we must, must merge the high culture of food snobbery with the ultimate low culture of pharmaceutical drug addiction.
As our cocktails arrived and I slid a pill in Katie's direction, our waiter caught sight of my hand and said, 'Don't mind me sir, I'm sure they're just regular drugs. Let's see how fun the evening can get! Weeeee!"
At that moment I realised that among their regular clientele of bankers, politicians and entertainment industry veterans, we may not have been the first patrons to have had this bright idea.
The first thing I need to mention is the Quay Butterfly – a lemon, butterscotch and star-anise flavoured cocktail that was simultaneously the most delicious liquid that's ever passed my lips and the catalyst for the Xanax I'd just eaten to turn from a pleasant buzz into full-on almost-falling-off-the-chair drooling bliss.
To avoid having to make absolutely any decisions for ourselves for the next three and a half hours, we decided to go with Quay's extremely impressive eight-course tasting menu.
I'd really like to find out about the training Quay's wait-staff go through because they are astonishingly adaptable – they chameleonise themselves across the range from snooty po-faced stiffs to affable, cheeky scamps, depending entirely on the kind of person they're talking to. Their social instincts are almost supernaturally impeccable.

On the page, Peter Gilmore's dishes read like ridiculous 'food-porn'; exactly the kind of weird, stupid combinations people who don't see what's wrong with a good meat pie, mate, imagine is eaten by those hoity-toity fucking city folk.
But on the plate, and in your mouth, the ingredients disappear.
I could try to describe the flavours of 'Raw smoked Blackmore wagyu, horseradish soured cream, fermented rye crisps, raw funghi' but the food is more than just tastes, every bite is like a trigger for a quick sequence of feelings and memories that leaves you reeling like you're deep in an acid trip. The food at Quay really does have an almost hallucinogenic quality.
The Snow Egg, Peter Gilmore's signature dessert, is every bit as good as you may have heard it is. A soft meringue orb filled with a vanilla custard and encased in a crisp, thin shell on a bed of fruit granita and more custard. This dish is always on the menu, but it evolves constantly. The majority of my brain fell asleep for about a minute as I ate it – everything disappeared. Just me, the Xanax and the dessert.

The only trouble with using eight course fine-dining as your Valentine's Day romantic gesture is that a woman's metabolism will really start to buckle by course number five.
By the time you get home, all horned up and ready to fuck, your girlfriend is naked on all fours, weeping and violently ejecting every last morsel of the $700 experience you just shared into the toilet bowl with her pussy in full view but utterly bone dry.
The good thing about benzos though is that when everything you touch feels like a pink marshmellow, even vomiting isn't such an entirely unpleasant experience and your short term memory is so totally offline that by the time you're all cleaned up the romantic mood is salvagable, to say the least.
In summary, I've discovered that my happiness is becoming human foie gras. Stuff me in a cage on pharmaceutical drugs and shove food down my throat until my liver turns to pate.
William Colvin – contributor
will@sneakymag.com